On behalf of our family, we welcome you to furniture of Dalton
- Georgia's largest furniture Retailer.
We're Ready
To HELP you
Furniture of Dalton offers a wide range of custom wood stains and hundreds of upholstery and leather options. Visit us today to personalize your space with custom wood and upholstered furniture that elevates your home with one-of-a-kind details.
When you visit Furniture of Dalton, you will see owners Brian and Amy Peeples, and their family, working inside and ready to help you find the perfect furniture and flooring for your home.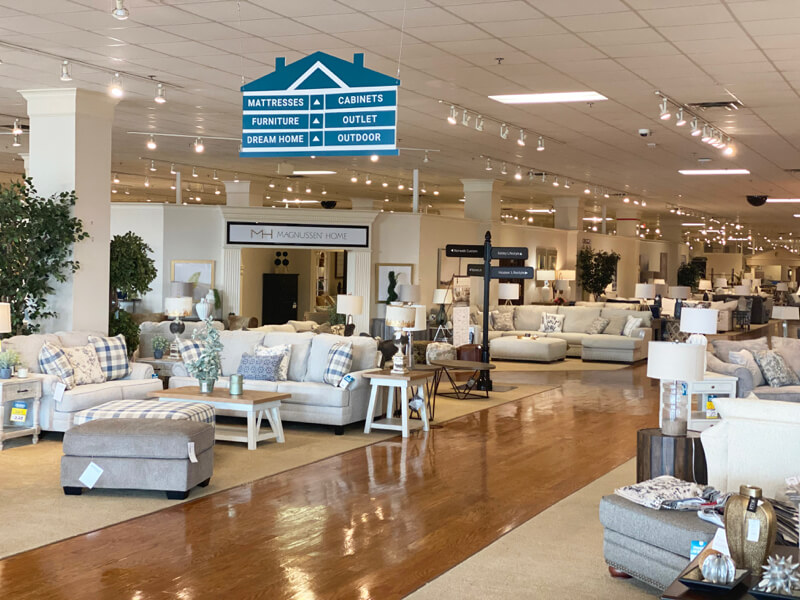 STEP INSIDE AND FEEL
THE DIFFERENCE!
Our inspiring showroom is organized by manufacturer and style so you can mix and match products for a cohesive design. What truly sets our showroom experience apart is our Dream Home. Tour this actual house, which we've filled with the latest in home design trends, for the ultimate inspiration for your next project.
Discover furniture for every room of your home, including the living room, dining room, bedroom, and office. We also offer outdoor furniture for porches, pools and patios. Complete your look with an incredible selection of wall art, lighting, accessories, top of the line bed linens, pillows, throws and mattresses.
COME VISIT US! IT WILL
BE WORTH THE DRIVE.
Our 120,000 square-foot showroom is located in Dalton, GA, about an hour north of Atlanta and just a short drive away from many other parts of Georgia and Tennessee. Experience our huge selection of quality furniture and our vast array of styles for yourself, and you'll discover the excellent value Furniture of Dalton is able to provide in today's competitive marketplace.
See you soon!