Firepit Ideas for Your Backyard
Outdoor Furniture from Furniture of Dalton
From the cool winter months to the long summer days, there's nothing like a night under the stars with your family or significant other to truly enjoy the time at home. There's no better way to enhance your outdoor patio than with a roaring flame to stoke long conversations and help create lasting memories with the ones you love the most!
By adding a stylish firepit to your backyard, you can instantly turn an ordinary, rarely used portion of your property into a resort-like feel where everyone wants to spend time. Along with our wide selection of outdoor patio furniture, you can craft an exterior living space that's full of flair no matter what size your patio is.  Here are a few of our favorite firepit ideas for your backyard that will bring in the warmth and good vibes all year long:
Fire Pit Models
Can you already hear the familiar crackle of a mesmerizing fire with the cool night air around you? If your backyard doesn't have a firepit yet, the time to bring one home is now. Without a doubt, firepits are one of the single-most popular pieces of outdoor furniture that we carry! Furniture of Dalton carries stunning firepit models from Ashley Furniture with no shortage of contemporary or casual styles. Select from soothing tones like antique white, driftwood, beige, medium brown, and dark brown to give your patio the fashion-forward appeal you envision. Maybe you prefer a circular firepit like the Paradise from Ashley in Medium Brown (below left), or perhaps you favor the modern farmhouse Preston Bay square firepit from Ashley in Antique White (below right). Explore which model is your favorite and can help achieve your desired décor theme as the beloved centerpiece!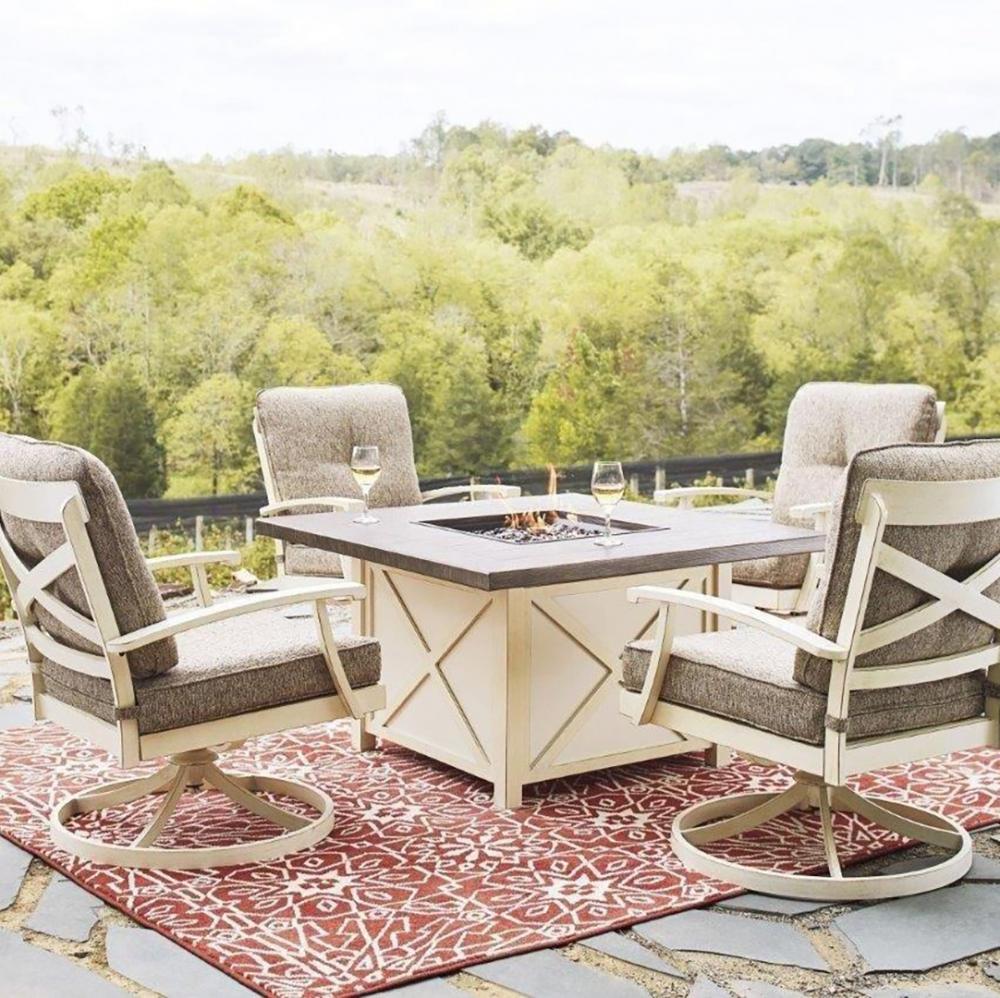 Firepits from Furniture of Dalton
Firepit Seating Options
Whether it's roasting marshmallows for s'mores or sipping a lovely glass of merlot, it helps to have seating by your firepit to feel the heat on cooler nights. Looking at the size of your firepit area, the size of your family, and your outdoor furniture budget, you can find the perfect firepit seating options for your backyard. For a smaller terrace patio or duo seating, consider adding a bench or chairs to fit the space and allow you to begin enjoying your firepit instantly. If you have a larger backyard, more family members, or you love to host frequently, shop for an attractive fire pit set that includes seating solutions or shop for a weatherproof outdoor set or sectional that will help accommodate more guests. Add cute outdoor pillows for more coziness that can also easily be switched out to match the respective seasons.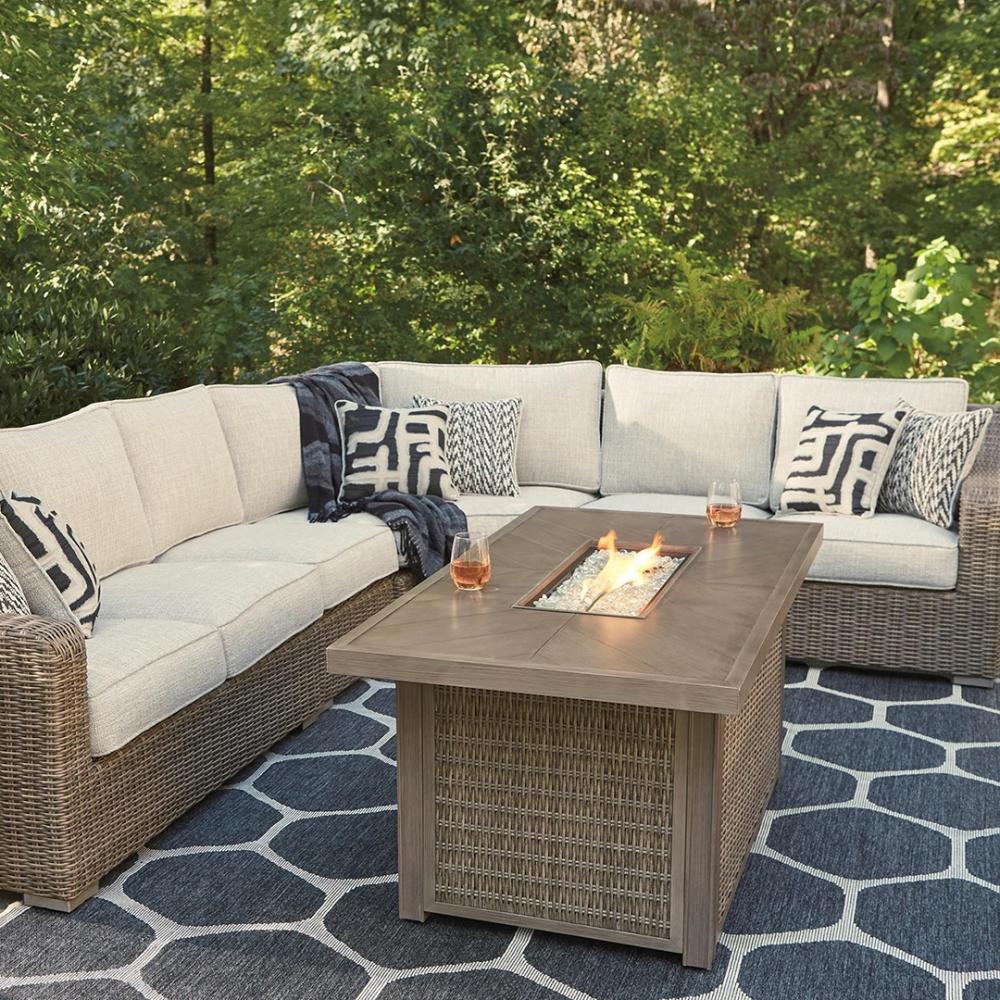 Outdoor Sectional from Furniture of Dalton
Outdoor Area Rug
With color, pattern, and added soft texture, outdoor area rugs are an exceptional way to pull your firepit area design together, while helping to frame the space and bring in a cozy vibe. Since an outdoor area rug will be exposed to the elements, choose an appropriate material like nylon, polyester, or polypropylene that can handle rain and moisture with ease. If your firepit area will receive ample sunlight during the day, explore options that are treated to better resist fading from UV rays. For a smaller firepit area, a 3 x 5 area rug should work like a charm while a 5 x 8 or larger rug will anchor more space, furniture, and center the overall design. To better fit a rounded outdoor sectional or balance a round-shaped fire pit, explore circular and oval-shaped outdoor rugs as well!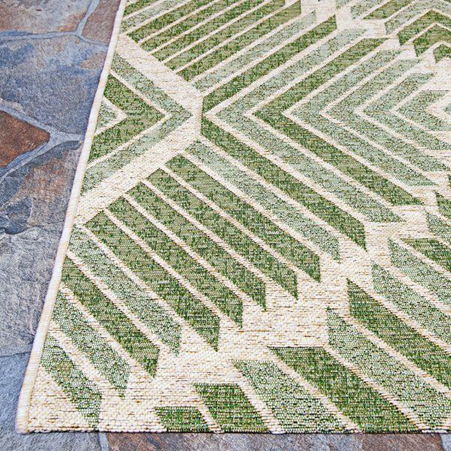 Rug from Furniture of Dalton Rugs.Shop
Pavers
As you design your outdoor living space for a firepit, consider using brick or stone pavers to create a patio, courtyard, or pathways that will provide a solid foundation to walk on, a structurally sound base for your outdoor furniture, and frame the entire area to perfection. Whether you choose traditional red brick or other organic-toned stone varieties, pavers will add visual interest to your yard while blending in naturally. For even more standout design, consider creative installation patterns such as parquet, herringbone, and diagonal stripe layouts to lend sophistication and artisanship to your firepit area. Consider how you can use the grout color to either contrast for depth and dimension in shadier areas or help tone down the amount of sunlight your firepit area receives.
Make sure to visit our Furniture of Dalton Pinterest, Facebook, and Instagram for even more inspired outdoors ideas that are perfect for installing a relaxing firepit! As you explore firepit models and outdoor furniture for your property, schedule an in-person or virtual design consultation so our experts can help you find pieces to complete your ultimate outdoor oasis!