How to Decorate a Bookcase
Furniture of Dalton Dream Home Office
If you are lucky enough to have built-in shelving within any of your rooms, then you are already aware of the visual interest that artfully designed bookcases can provide. Perfect certainly for showcasing your favorite literary works, bookcases also hold flowers, vases, framed photos and artwork, decorative pieces, and cherished family heirlooms that bring in color, texture, new shapes, and materials for visual engagement.
For those rooms that don't feature built-in bookcases, adding a standalone bookcase can provide multiple valuable functions: Whether it's to help organize and display items, serve as room a divider, or reinforce a design theme, bookcases don't just hold books! Here are a few of our favorite ideas for how to decorate a bookcase throughout the home:
Decorating a Living Room Bookcase
Have you ever heard of an etagere? This French term refers to a standing set of open shelves for the display of collections, objects, or ornaments. An etagere is a perfect take on the traditional bookcase or room divider, becoming a helpful way to maximize space, maintain organization, and help a space transition. You can choose a shinier metallic material that pops, a standout wood texture or finish that fits your décor, or a muted look that blends in seamlessly. Some bookcases and etageres even become functional pieces of art with striking, eye-catching constructions and designs! When it comes to a seasonal design refresh for your living room, a bookcase will help you swap out appropriate colors and motifs in the form of artwork, vases, and other accessories.
Decorating an Office Bookcase
An effectively designed office will help increase productivity at home and an office bookcase will help organize and declutter the space. Your bookcase can be a standalone, or part of a hutch, credenza, or cabinet storage solution. Many opt for home office furnishings that are more modern or minimal to improve focus and avoid decorating a room that feels overly busy or distracting. In addition to helping you better maximize the office space that you have, your bookcase will help personalize your workstation and highlight memorabilia, awards, framed diplomas, family photos, and other sentimental items that you are proud of. You can also add pops of inspiring colors on your shelves to boost your mood while working!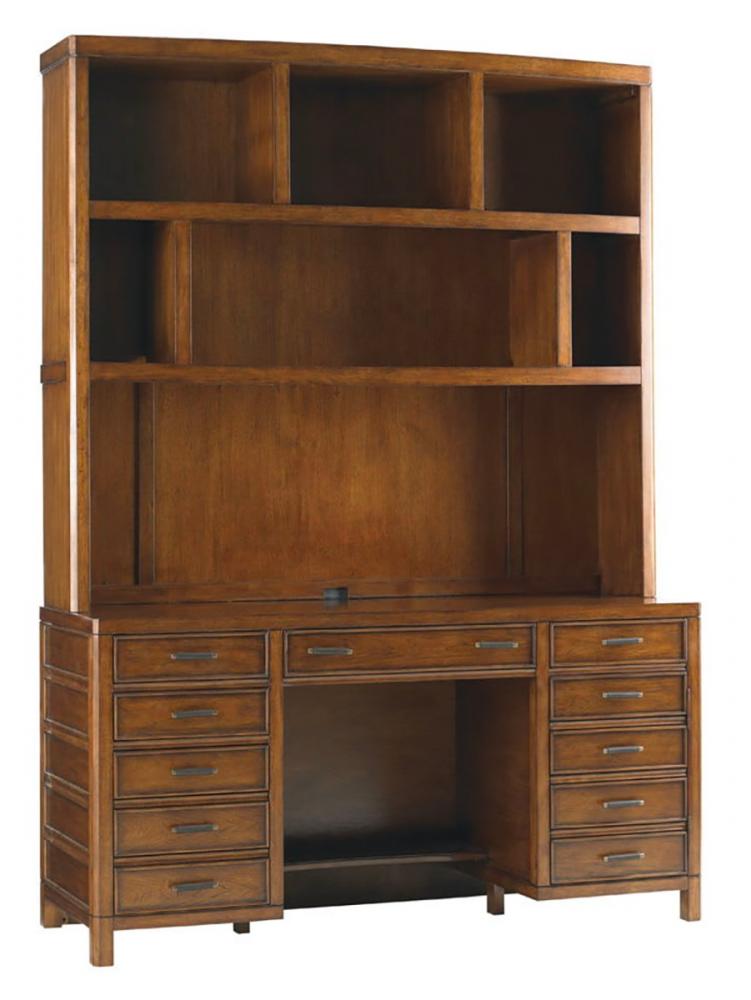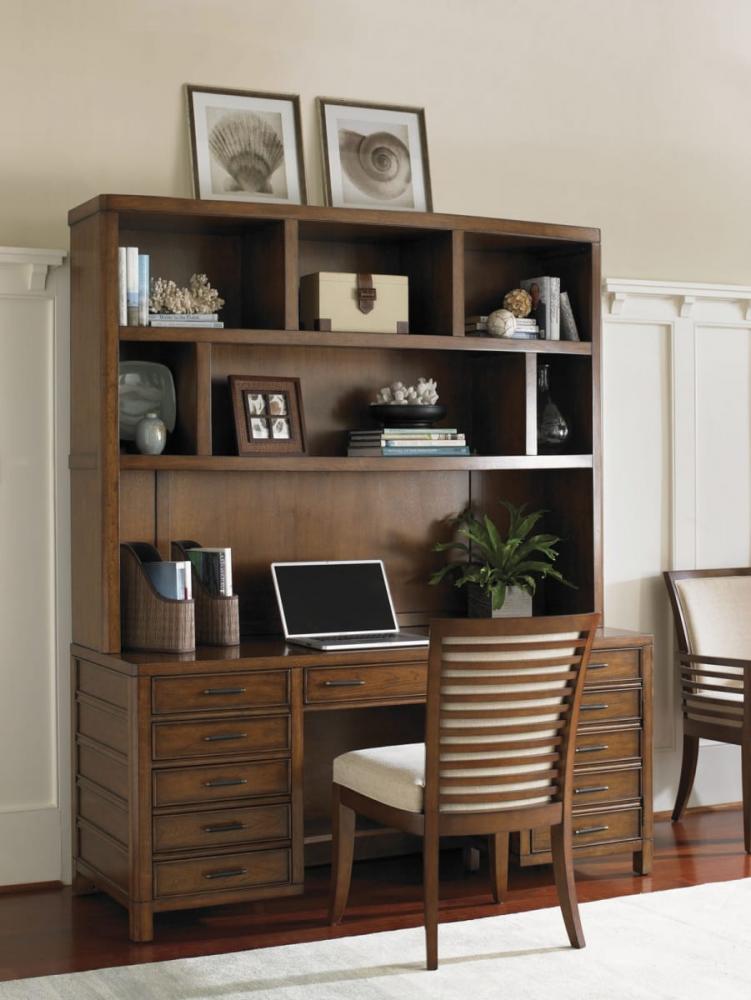 Bookcases for Small Spaces
Even in the tiniest rooms and floorplans, a bookcase will not only fit but will also help you to decorate efficiently without taking up much space. A savvy corner bookcase lets you take advantage of every last inch of square footage, especially in tight spaces that can't accommodate larger pieces of furniture. In addition to lending a pop of color and contrast, the versatile construction allows you to achieve a layered look and offers helpful storage solutions. In a smaller apartment, college dorm, or anywhere you want extra shelving, a corner bookcase will probably do the trick!
Decorating a Children's Bookcase
When it comes to adding organization and order to an often-chaotic playroom or child's bedroom, any piece of innovative furniture that helps keep things tidy is a welcome addition! In addition to housing favorite books and creating a personal library, a kid's bookcase can also house trophies, pictures, prized toys, and other items that your little one is proud to show off. Many pieces of children's furniture can provide more than one function such as a bunk bed with built-in bookcases or a loft bookcase that features a ladder for reaching a bunk bed. Parents will love the storage aspect, while kids will love the freedom of designing their display space- a children's bookcase is a true win-win!
Decorating a Bathroom Bookcase
Whether you have a spacious bathroom, a concise half bathroom, or a bathroom closet with storage already, adding a stand-alone bookcase or etagere can elevate your bathroom's upscale appeal along with helping maximize space. We love the idea of rolling up plush, colorful towels and hand towels like you would see in your favorite spa or hotel suite to instantly lend inviting softness and comfort. Next, add either real or fake flowers, a palm, tropical plant, or succulent to bring in refreshing natural vibes. You can add candles with your favorite scent and even add a whimsical book or current magazine to reflect your personality. Make sure that your bathroom bookcase choice is made from a material that will not be damaged or compromised by humidity, and your personal retreat is ready to provide premium rejuvenation.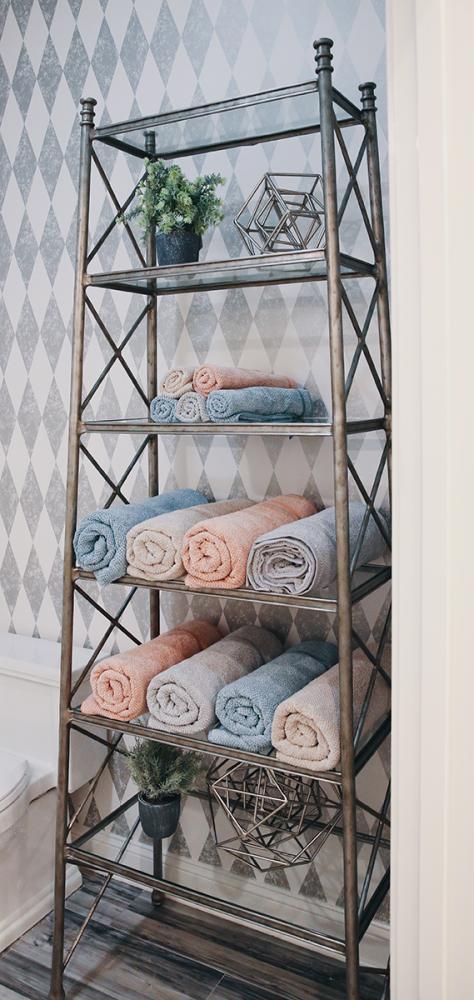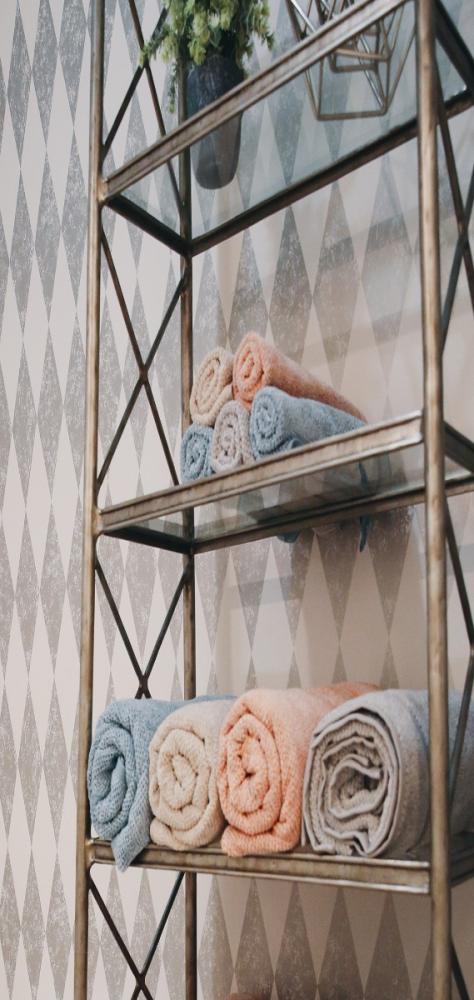 Furniture of Dalton Dream Home Bathroom
Make sure to visit our Furniture of Dalton's Pinterest, Facebook, and Instagram for more bookcase decorating ideas that will make every room more functional and visually interesting. Schedule an in-person or virtual design consultation so that our experts can help you find the bookcase design you love that matches your preferred décor theme to perfection.