Living Room Furniture
Brand Spotlight // Spectra Furniture Staged Living Rooms at Furniture of Dalton
THIS MONTH'S PROMOTIONS:
Decorating a living room can be one the most challenging spaces in all of your home, and with it being one of the most used rooms you want it to feel as homey as can be. We know selecting the "perfect" furniture can be hard, and ESPECIALLY when choosing a sofa so that is why for the entire month of September, we are running an amazing Labor Day Inventory Reduction Sale which includes 15% ALL LIVING ROOM furniture! We want you to pick those pieces you have always wanted without stressing about breaking the bank so we are also offering 0% Financing for 24 months. When starting the decorating process, it is so important to watch for promotions on all of your favorite brands and company's so you get more bang for your buck!
WHERE TO START WHEN DECORATING YOUR LIVING ROOM:
When decorating your living room, which is arguably one of the most utilized spaces in your home it can be nothing short of a challenge. This can be the case whether you are starting from scratch, or redesigning something you already have. To simplify this, we find it to be best to start with finding inspiration, and look at your room with fresh eyes even if this means a blank space or moving existing furniture out to get an empty slate. At the very beginning it is so important to determine the budget you want to stay within. Figure out where you want to save and where you feel like a splurge is necessary. We recommend to start BIG, and find that sofa or rug that really starts the vision for the whole room. Work with the correct sizing of your space, don't choose pieces that make your room feel smaller. Selecting that sofa or sectional or whatever it may be will really help you kickstart the rest of the room as well. We will dive more into where to go next, but always consider these main tips: Always measure the space, be smart when selecting your sofa and rug, purchase multi-functional pieces, and get creative on the artwork/objects.
CHOOSING THE CORRECT SOFA & RUG: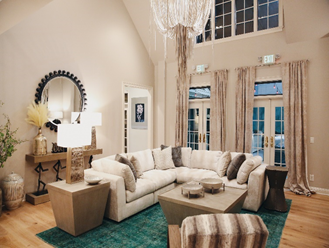 One of the most important things to remember before selecting anything is to measure your space, especially before ordering a rug or sofa. These large items can be a hassle to return and exchange, but getting exact measurements can help reduce that as much as possible. As we were mentioning before after taking measurements if you start by picking your sofa first, consider choosing your rug the next step. These two pieces go hand-in-hand so much that it's best to select your rug while your sofa inspiration is still fresh on your mind. Rugs are a very high traffic area in that room so it is best to pick a very durable option. If you are following a color scheme keep the rug in mind for that, and consider what color selection you made for your couch. For our Dream Home we chose to do a neutral sofa, and throw in a stunning bright teal rug to really give the room some brightness and pops of color!
GETTING INSPIRATION & SETTING FURNITURE INTO PLACE:
After purchasing your main items, it is time to set them into place and complete the rest of the room with décor of your choosing. We recommend looking at our Pinterest page under the "Living Room Inspiration" tab to get a feel of the setup you are wanting and see how others have done it. We strive to be as helpful when it comes to helping customers get a feel for their space and what they are going for, and Pinterest is a great place to do that at. After you have checked inspiration, we recommend setting the room into place. Start by laying your rug, then placing your sofa, adding in your coffee and side tables, and adding additional lighting with statement lamps. You can use the link included to look at our Pinterest Inspiration categories, and hopefully find the perfect setup for your space!
WORKING WITH A DESIGNER:
If reading this blog still doesn't spark creativity to you, and you still cannot figure out a theme or where to begin with selecting a sofa/rug we HIGHLY recommend getting with one of our Design Consultants here at Furniture of Dalton. We understand that these spaces are what YOU look at everyday and we understand you want to love your selections for many years to come. On our website we have an entire section dedicated to selecting a designer that will work best with you and setting up an appointment to talk further on everything you wanting for your space. Designers can really take the stress away from you, and help you visualize a space before buying anything! Click the link to book an appointment with one our Design Consultants today!
Make sure to visit our Furniture of Dalton's Pinterest, Facebook, and Instagram for more inspiration on decorating your living room and selecting the right furniture. Schedule an in-person or virtual design consultation so that our experts can help you every step of the way on choosing the furniture, décor, and theme that you will love for many years to come!