Mixing Farmhouse & Modern Decor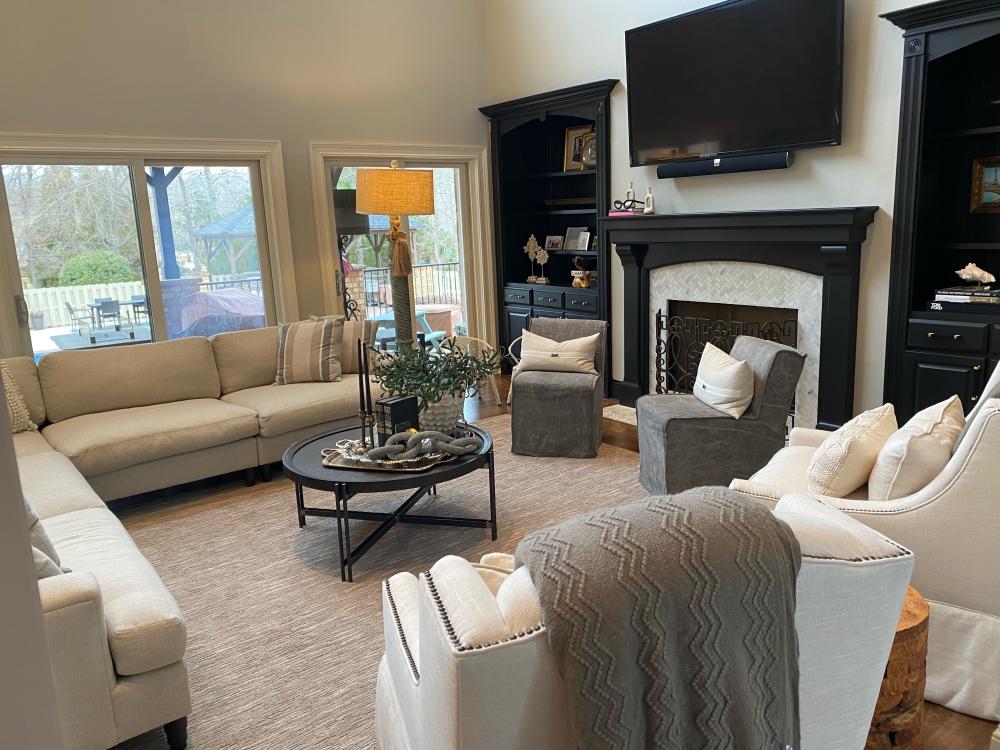 Featuring cut and bound broadloom carpet from Phenix sold at Carpets of Dalton, Spectra gray chairs, Norwalk sofa, coffee table and ivory swivel chairs all from Furniture of Dalton.
If a relaxing day in the countryside is right up your alley, a rustic farmhouse design layout will deliver the charming, cozy vibes in your home year-round. For a clean, purposeful feel that prioritizes function and minimalism, modern design can enhance your spaces while creating a sleek, hip look. In the past year, we've seen a rise in 'modern farmhouse' décor that updates the comfortable, country appeal with fresh contemporary touches!
With more homes becoming a place where work can be completed during the day and supreme relaxation with family can take place in the evening, a refined farmhouse design can offer the perfect balance of both aesthetics. It's all about putting together cozy elements, rustic details, and natural materials with modern tones and textures for an updated, fresh take. Here are a few key ways to mix modern and farmhouse décor seamlessly like a professional:
Interpreting the Design Theme
When it comes to mixing these décor styles, do your best not to take either one too literally! Indulging too much in a farmhouse theme such as with vintage metal signs or dated pieces of furniture that are too relaxed will make it hard to update the room in a modern way. Modern spaces call for more chic textures and high-end finishes, which can then be infused with vintage touches like baskets, lamps, and artwork, along with adding woven throws, rugs, and drapery made from natural materials to work in the relaxing factor.
For working mom Mollie Surratt of Calhoun, GA, she sees modern farmhouse design as a perfect fit for her active family.
Before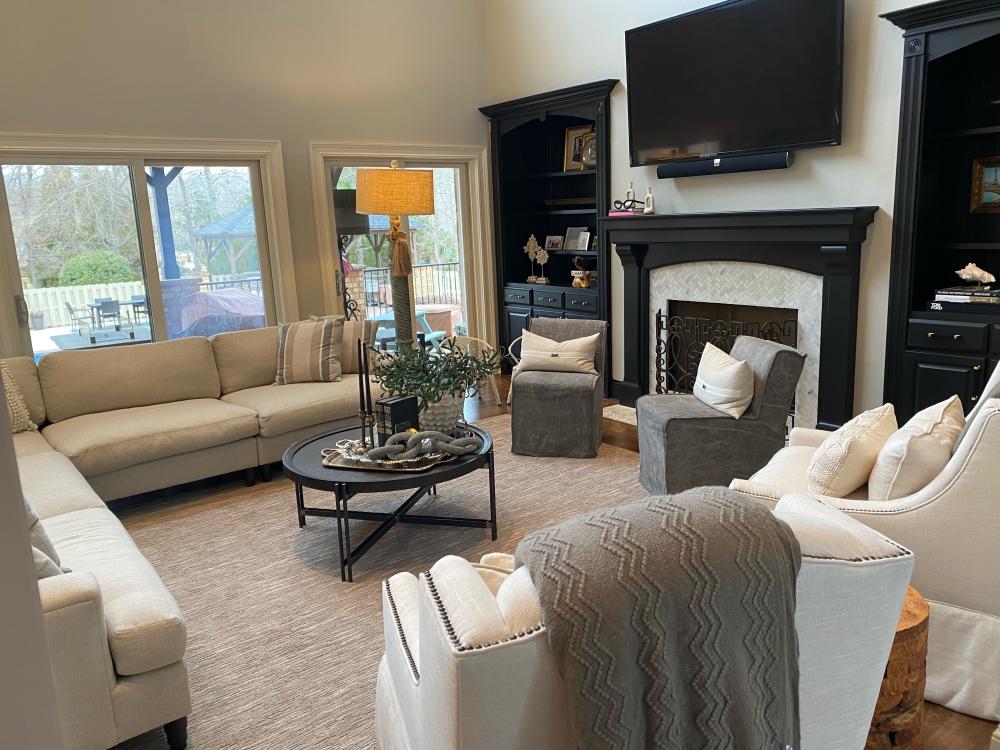 After
Colors & Contrast
Neutral tones are here to save the day once more! Just like in the fashion world where neutrals are used to coordinate outfits to perfection, a neutral color palette using creams, beiges, and soft grays is ideal for layering rooms to add softness while remaining clean and uncluttered. To provide visual interest, woven and classic textures and patterns within the same color palette will keep the room engaging and avoid feeling flat. Next, contrast your neutrals with darker contrasting shades on the other end of the color spectrum to add a modern presence. This can be from a statement piece of furniture, lighting, or decorative piece. Mollie utilized Benjamin Moore Onyx on her fireplace and bookshelve to give a modern accent that contrasts the light walls.
In Mollie's farmhouse modern family room, we love the way the creams and grays from the sofa, accent pillow, and woven rug, balance the moody black coffee table for a fashion-forward space that's perfect for a nap or watching a movie.
Photos provided by Mollie Surratt of Calhoun, GA
Vintage Character
To bring in the farmhouse aspect of your design and pay homage to a simpler way of life, keep the authenticity and character of some of your favorite heirlooms and furniture. Beautiful rustic wood floors can often provide this dynamic, but cherished pieces of wood furniture will provide the same effect. Many antiques both big and small will fit this blended aesthetic. A quality rug passed down through the family will add unique charm and become a conversation piece. Consider adding framed vintage artwork that speaks to the rustic theme depicting landscapes and country life. Find harmony between modern times and classic farmhouse by adding warm vintage items throughout bookshelves, coffee tables, the mantel, and kitchen counters. Rustic doesn't only mean reclaimed wood either: Brass, galvanized metal, and other metallic frames and details add time-worn touches within a modern setting. A quick scan of Mollie's family room shows that vintage character is sprinkled throughout the space within the coffee table, furniture detail, lighting, and bookshelf for subtle rustic flair.
Natural Materials
If you are worried about your updated room not feeling cushy or relaxed enough, this is where soft texture comes into play! Natural materials like cotton, linen, and organic jute fibers are not only an essential element of farmhouse décor, but they offer extra softness within a modern layout. Rugs, pillows, and throws made from natural materials are easy to work in and switch out to fit the seasons. These soft additions are also great for layering and offering texture to break up smooth modern finishes. Mix different colors within the same family such as various neutral greens or neutral blues to keep interest high. We love how Mollie layered her family room with a soft grey palette to bring in the coziness.
As you put together your favorite ideas for a modern farmhouse room, make sure to avoid clutter, adhere to a semi-minimalism principle, and consider switching out builder-grade lighting to set the perfect mood. Visit our Furniture of Dalton Pinterest, Facebook, and Instagram for extra inspiration and schedule an in-person or virtual design consultation so our experts can help bring your vision to life!