Why In Stock Furniture is Hard to Find and Where You Can Find It
If you have been in the market for furniture in the last 18 months, you know the struggle of finding the perfect piece of furniture, only to be told it will take 6-8 months or longer to arrive. So why is there such a delay on furniture orders currently? The COVID-19 pandemic has undoubtedly contributed to the delay on furniture orders, but there are several other related factors including increased demand, supply shortages, and import issues. This has made it difficult for many furniture retailers to get furniture to consumers in a timely manner. At Furniture of Dalton, we are very proud to have one of the largest selections of in-stock furniture in the North Georgia area, so that we can provide our customers with furniture that they can take home the same day. We wanted to highlight some of the factors contributing to the delay in furniture deliveries and how we are able to keep so much furniture in-stock.
Table of Contents
Hard to Find In-Stock Furniture
Furniture Industry Supply Shortages
Importing Furniture Issues
How Furniture Of Dalton Can Help - Where to Find In-Stock Furniture?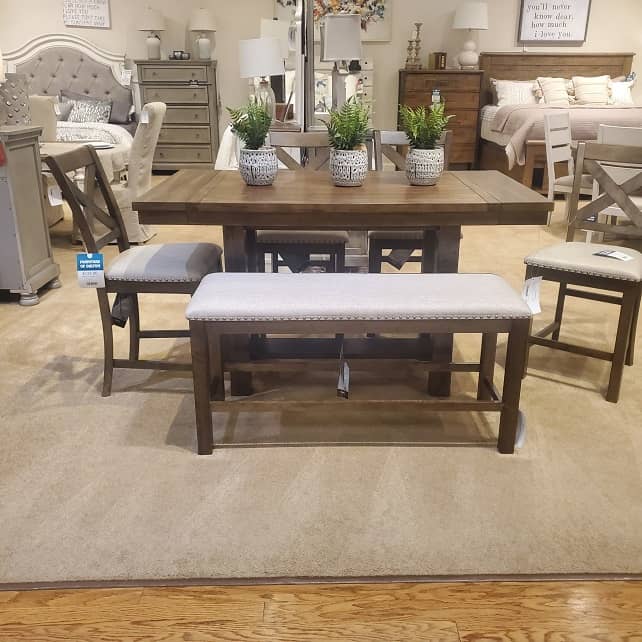 Hard to Find In-Stock Furniture
The COVID-19 global pandemic has certainly encouraged all of us to spend more time at home. Working from home is more common than ever, children have been learning at home, and families are doing more in the home than ever before. All of these factors have led to people wanting to make their homes more enjoyable and functional. From updating home offices to redesigning living spaces like the living room and dining room, the furniture industry has seen a huge increase in demand. There has also been an increase in housing demand brought on by low interest rates and a shift in people moving from big cities to smaller towns and suburbs. This increased demand coupled with the fact that many furniture retailers keep a low level of inventory in-stock has led to excessively long delays on furniture orders. The orders furniture retailers are placing that would typically take 8 to 10 weeks to arrive are now taking anywhere from 25 to 35 weeks.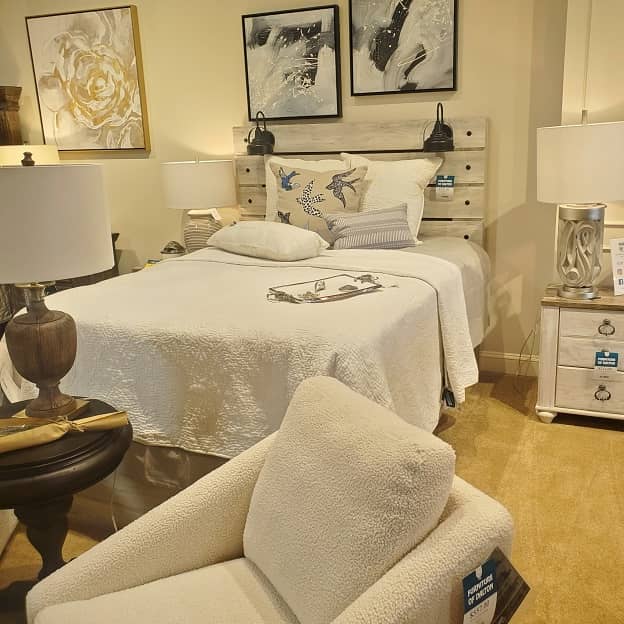 Furniture Industry Supply Shortages
Another challenge for furniture manufacturers is a shortage in supplies. Winter storms in February 2021 caused widespread power outages in Texas and other Southern states. In addition to millions of people being without heat and electricity, the inclement weather also knocked out several of the U.S.'s major producers of propylene oxide, a main ingredient in foam. While the factories are recovering, they haven't been able to meet the demand for the foam needed to make mattresses, couches, and chairs. Nuts, bolts, fabrics, drawer rails, and brackets were also affected by the storms and have been in short supply. Lumber is another material that is difficult to come by and much more expensive than it was pre-pandemic. This is due to high demand and low supply. New construction and renovations have boomed with the pandemic, and sawmills are unable to meet the demand. Building a new sawmill can take years to complete and as prices are already beginning to level out, the risk makes investors hesitant to build new sawmills to meet the current demand. Transporting the lumber has also been difficult due to the labor shortage in the United States.
Importing Furniture Issues
Another factor at play is imports. Almost all furniture has some component in it that is manufactured overseas. Imports from other countries, especially China, have been held up due to the pandemic which has led to rising prices. Airfreight cargo, which previously transported many of these goods, is much less because international flights are not flying. Ocean transport costs have also gone up as businesses are trying to replenish inventory that was already low during the pandemic and containers are overbooked. Ports have been hit with COVID outbreaks both in the U.S. and other countries which is causing issues in the supply chain as there are no workers to receive the containers.
How Furniture Of Dalton Can Help - Where to Find In-Stock Furniture?
With all of these challenges, it has been very difficult for furniture retailers to meet the increasing demand for furniture which has led to much longer than usual ship times. Fortunately, Furniture of Dalton has several advantages that enable us to keep furniture, mattresses, and flooring in-stock. First, we have a massive showroom, over 120,000 sq ft, so we can house a lot of items. Secondly, we continued purchasing furniture, mattresses, and flooring even at the beginning of the pandemic when other retailers were hesitant with the economic uncertainty. As a result, we are able to offer a massive selection of in-stock furniture, mattresses, and flooring that people can take home upon purchase or have delivered. From sofas, sectionals, loveseats, dining room tables and chairs, mattresses, outdoor furniture, leather, and more, we have it all in stock. We also have brands that other furniture retailers can't get in stock including Hooker, Bernhardt, Vaughan-Bassett, Bradington Young, BarcaLounger, Uttermost, and Tempur-Pedic - just to name a few.
If you have been looking for new furniture or flooring for your new home or just want to refresh your existing home and have been disappointed by excessively long delivery times, visit Furniture of Dalton today. We have thousands of in-stock furniture pieces, and we can't wait to help you create a home that you and your family love.