2022 Home Decor Design Trends
Furniture of Dalton is excited to share some of the 2022 Home Decor Design Trends that we saw at High Point Furniture Market from textured fabrics to fringe, natural materials, and living in comfort.
2021 is coming to a close and as we get ready to enter into 2022, we wanted to share some of the most popular home decor trends for 2022. We recently visited High Point Furniture Market where we got a sneak peek of what's hot in home decor, and we can't wait for the year ahead! Some of the most seen trends included textured fabrics, fringe, natural materials, and comfort above all else. Keep reading for a preview of what's to come in 2022 home decor.
Comfort is King
Before COVID-19, comfort was a plus when it came to furniture and home decor, but after spending much more time in our homes, we have realized that comfort is of utmost importance. This is showing up in a variety of areas like upholstery where we saw lots of grainy materials, such as boucles, that played into the Hygge vibe of comfort and cozy. Rounded edges are also a big trend we saw as opposed to harsh lines. This again plays into the more comfortable, casual trend that consumers are preferring.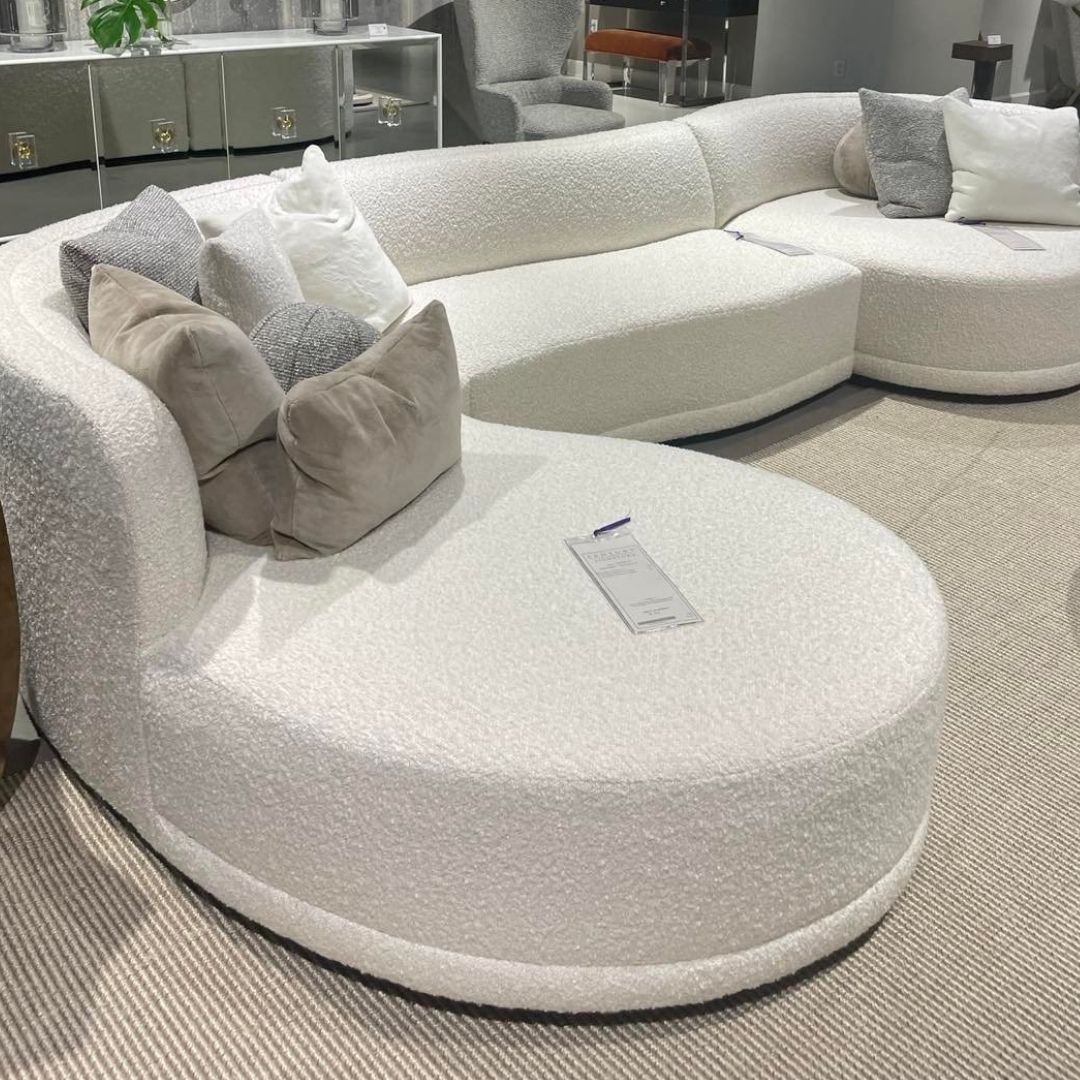 Black Accents
Black is back! While it never truly went out of style, black accents were a huge trend at High Point Market. While neutrals are still dominating larger elements like paint colors for walls, sofas, and sectionals, black accents like chair legs, lamps, and hardware on furniture help add dimension and interest to spaces like the living room, dining room, kitchen, and more.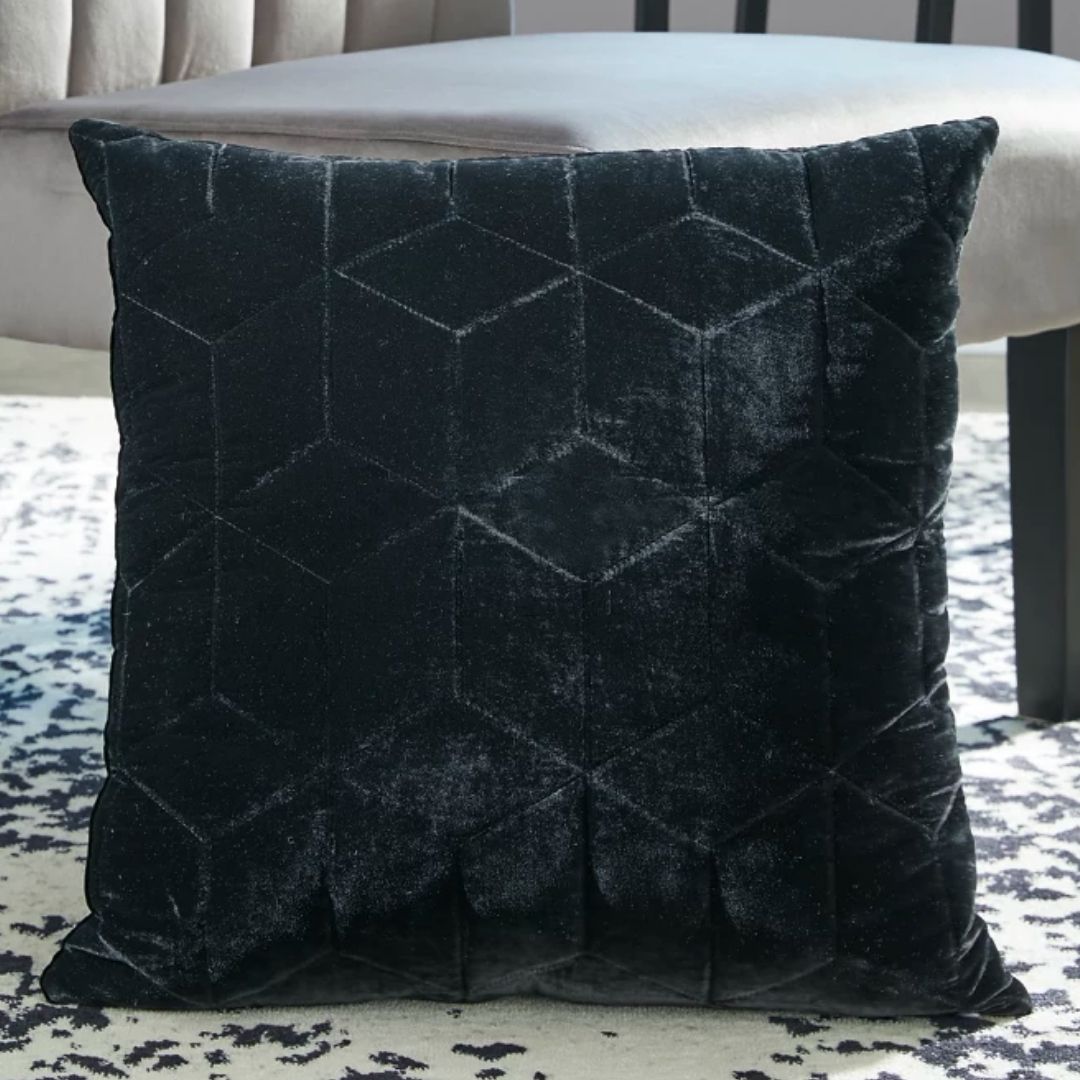 Fringe
This fringe accent chair was one of our favorite pieces at the market! Grey and other neutral colors are still very popular and timeless, but we love the wow factor of the fringed back that makes this chair unique. Especially when paired with the more traditional patterned throw pillow. The unexpected combination worked so well.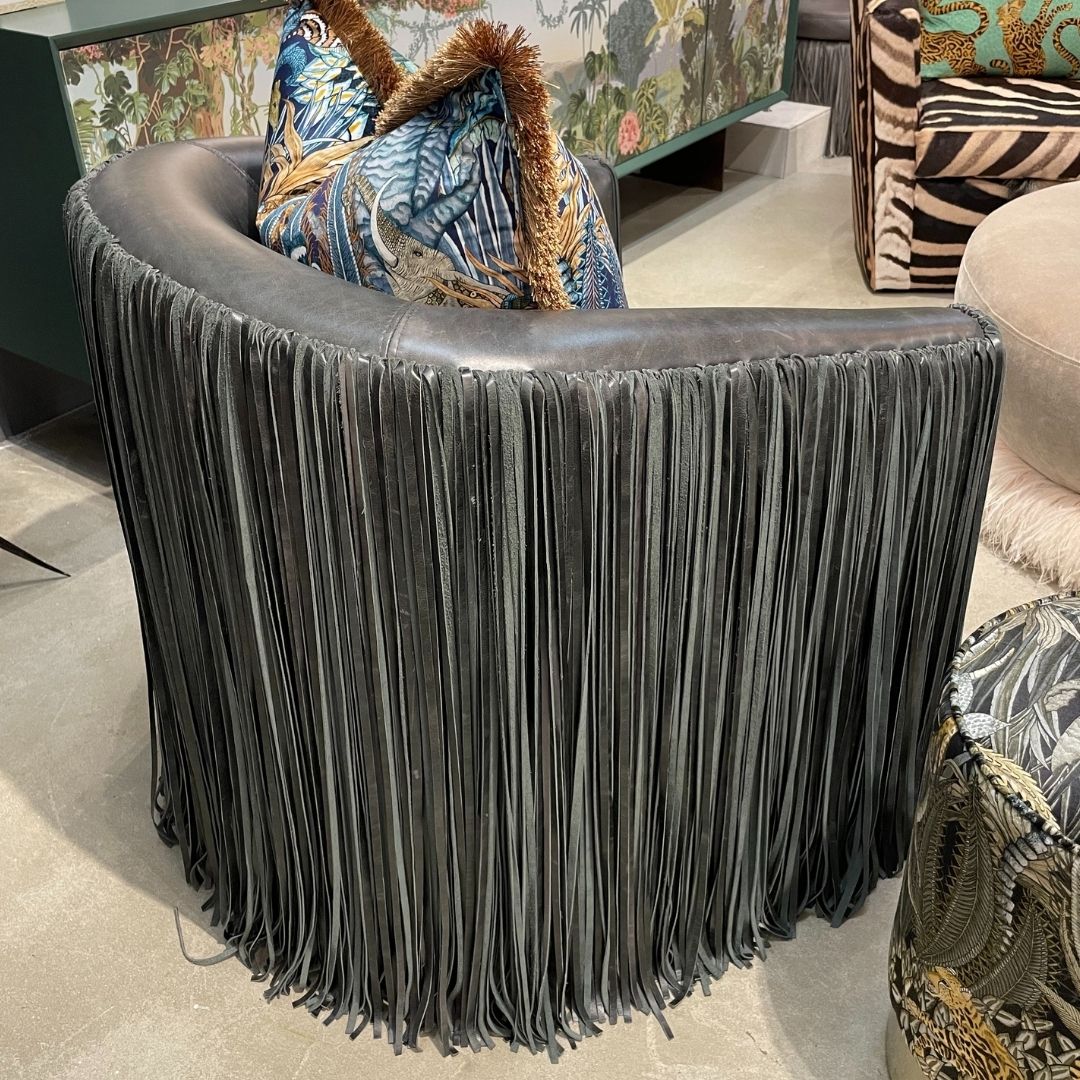 Natural Materials
Modern coastal design is everywhere in the home decor space currently and for good reason. Its bright and airy vibes give you the sensation of being at the beach, but you can have this style anywhere. Home decor is also reflecting the trend of using more natural materials in pieces that are well-constructed and timeless for more sustainable furniture that will last. We love this dining table from (brand) with the jute accents paired with the light wood table and basketweave light fixture. We definitely see this trend showing up a lot in 2022.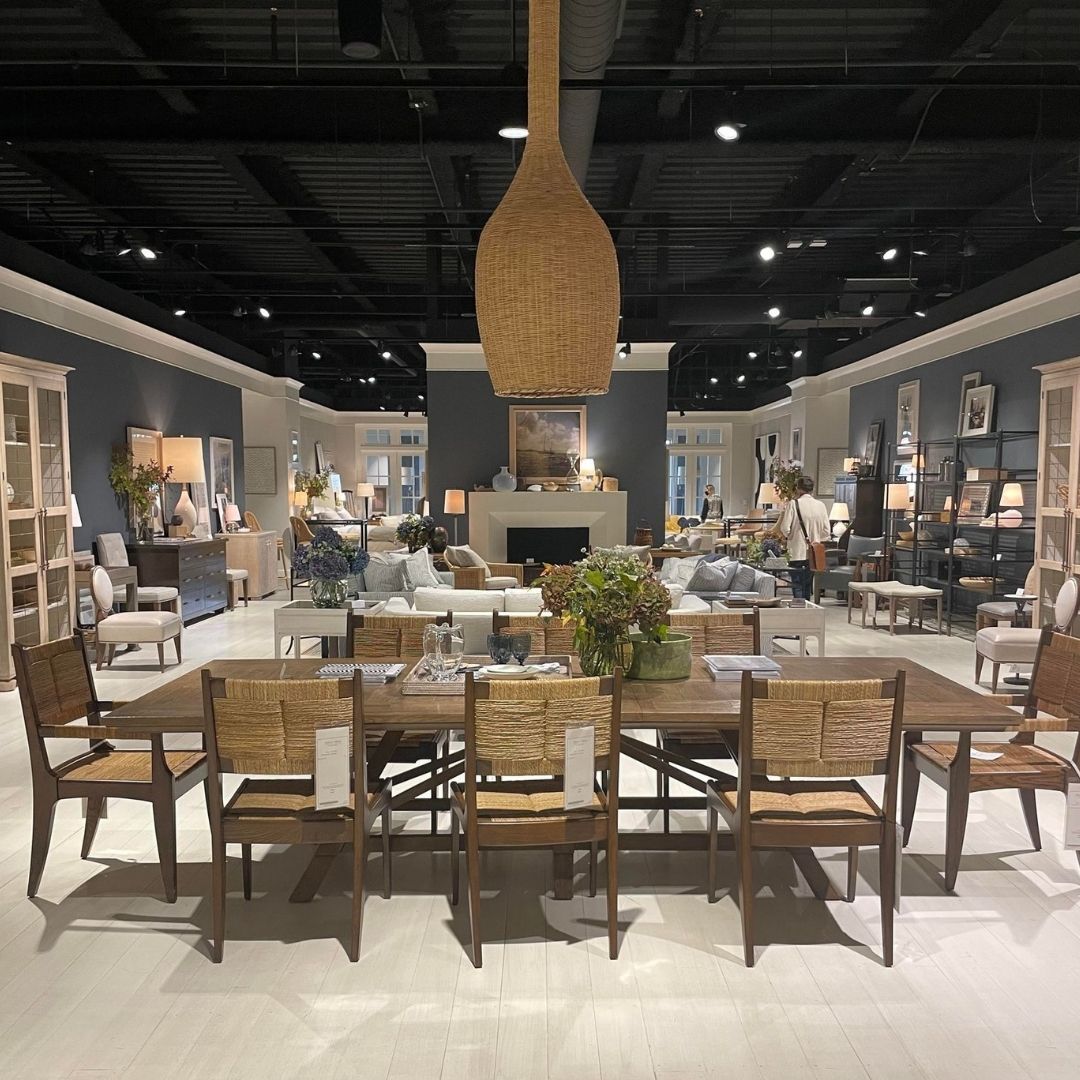 Textured Furniture
Textured furniture was everywhere at High Point Market from credenzas to accent chairs, pillows, bed frames, and more. We love the way the texture on the doors elevate this credenza from (brand). The snakeskin on the doors takes a simple storage piece and makes it a show stopping feature!
Velvet, Sherpa, and Boucles
Maybe it's a response to spending more time at home over the last year and a half or an increase in attention to details, but cozy fabrics like velvet, sherpa, and boucles are super hot in home decor in 2022. Velvet has been making a resurgence recently, and it was all over High Point Market this fall. We love the velvet in these sea-blue mid-century modern chairs from (brand). We saw a lot of bolder color palettes used with velvet from blue to orange, green, mustard, and more!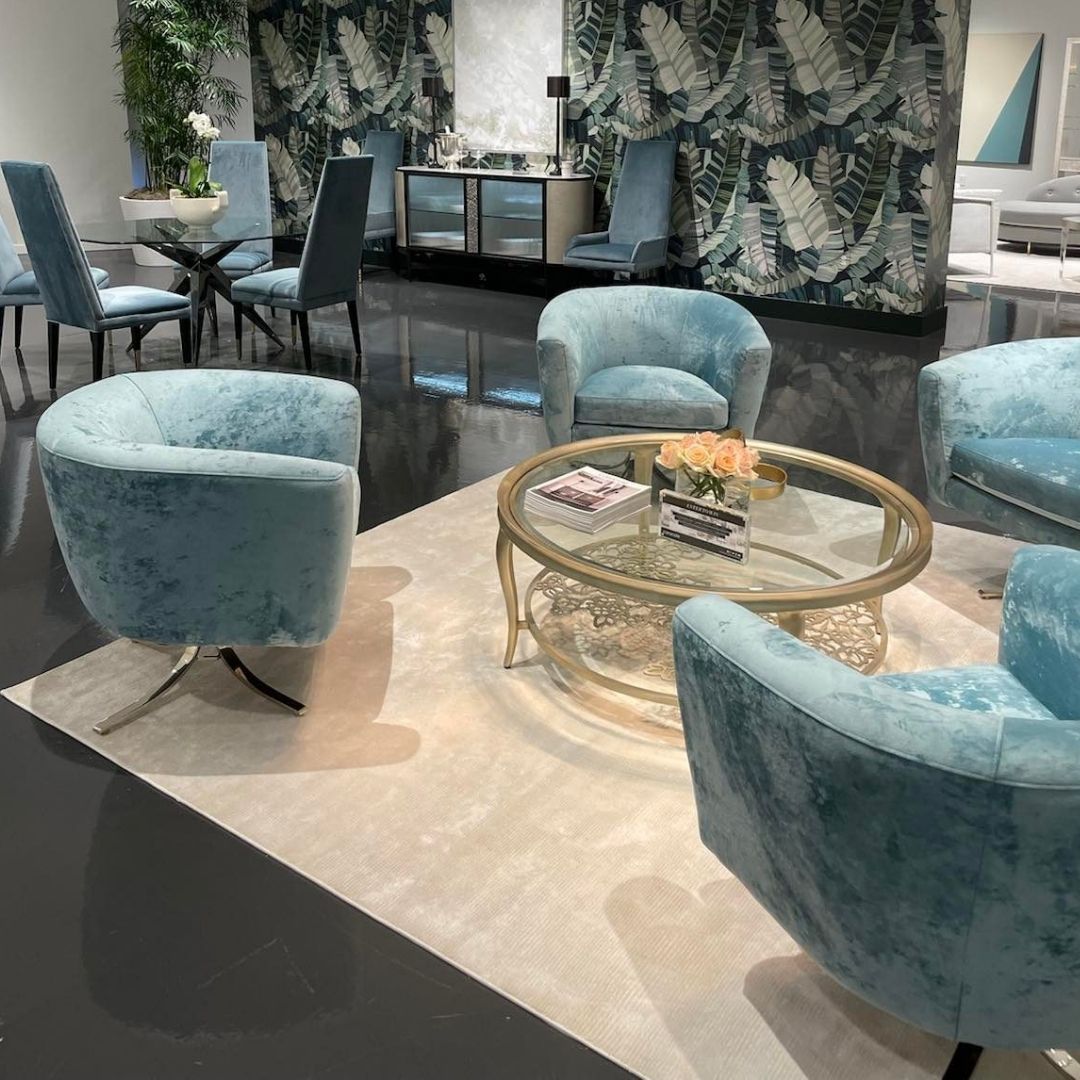 We loved seeing all of the new trends in home decor and furniture for 2022 and we can't wait to share them with you as pieces arrive on our showroom floor. Check out our Pinterest board for more 2022 Home Decor Trends and schedule an in-person or virtual design consultation today to see more of what is coming and get help designing your favorite spaces. Which home decor trend are you most excited to see in 2022?