Brand Spotlight: Hooker Furniture
The Hooker Furniture brand is synonymous with high-quality and stunning style. A leader in the American furniture industry since 1925, the brand has evolved and adapted over the last century to meet the wants and demands of consumers while staying committed to its core values. To learn more about the robust company history and manufacturing, check out our past blog on Hooker Furniture. Furniture of Dalton is proud to carry this exceptional brand, and we wanted to highlight some of the incredible Hooker Furniture pieces we carry from bedroom sets to living room furniture, dining room furniture, and more.
Hooker Bedroom Furniture
The bedroom should be a luxurious sanctuary that we retreat to at the end of a long day, as well as a warm and peaceful space to wake up rejuvenated after a great night's sleep. It is important to fill this room with quality furniture that speaks to your design style and personality, while also standing up to all that life throws our way. Hooker Furniture's bedroom furniture is built for beauty, quality, and durability. Whether your style is traditional, casual, or modern, there are options for you to choose from. From canopy beds and upholstered headboards to nightstands and bedside tables, dressers and chest of drawers, wardrobes, armoire cabinets, and storage benches; Hooker has something for everyone. With the unique style and functionality you need, Hooker allows you to build the bedroom of your dreams.
In-Stock Bed, Bench, and Nightstands
Hooker Living Room Furniture
As a central gathering place for the family, creating a comfortable and inviting living room is a must! Thankfully, with Hooker's exceptional selection of couches, loveseats, sectionals, accent chairs, recliners, and more, you can create the perfect setup for any size space. A gorgeous leather couch allows family and guests to mingle together, while a smaller conversation nook, complete with accent chairs, provides a cozy corner for reading or more intimate discussions. Whether you prefer a farmhouse style with neutral hues and natural textures or a more modern aesthetic with clean lines and simplicity, you can find pieces that speak to your unique taste and help your family make the most of this treasured living space. Hooker Furniture utilizes wood, metal, glass, leather, and color-rich fabric to capture timeless style as well as incorporate fun pops of color and design. Add in coffee tables, end tables, and console tables to complete the space and give it character!
Hooker Dining Room Furniture
Meals shared around the dining room table make for unforgettable memories, and Hooker dining sets will easily help you transition from hosting family for the holidays to friendly game nights, and weekday dinners. If you have a smaller dining space, a round table is a great option! For larger dining room areas, Hooker Furniture has gorgeous large dining tables that can accommodate a large number of guests. With options in metal, glass, or wood, Hooker dining room tables can suit any style of home decor. They also have a variety of dining chairs and barstools to give your guests comfortable seating. Finish off the space with a sideboard, buffet, credenza, or china cabinet to showcase your family heirlooms.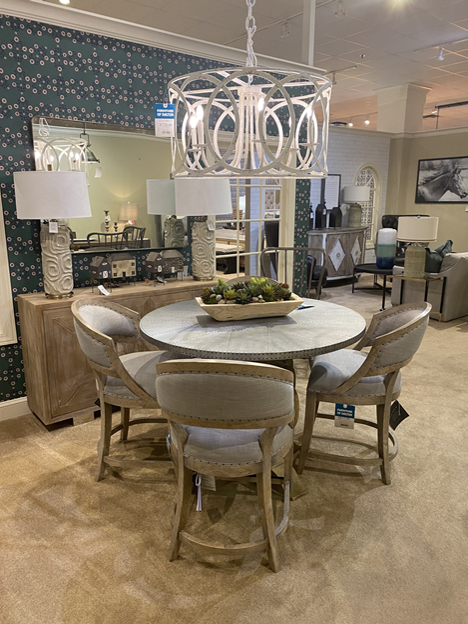 In-Stock Round Table, Chairs, and Sideboard
If you are looking for the perfect piece for your home that will both dazzle and stand the test of time, check out our amazing selection of Hooker Furniture at Furniture of Dalton. We have an expansive selection of in-stock pieces at our gorgeous showroom in Dalton, Ga, or you can browse online. As always, if you see something that you like, let us know and we will work with you to make your vision come to life. Be sure to follow us on Facebook, Instagram, and Pinterest for the latest design style and inspiration. We look forward to helping you find the perfect Hooker Furniture for your home!