Brand Spotlight: BarcaLounger
Cherished stories from a beloved grandparent told to eager ears. Long afternoon naps with the sun shining through the window and the television still on. Watching history made by a favorite sports team that will never be forgotten. BarcaLounger reclining furniture delivers the comfort and relaxation that's perfect for enjoying life's moments and capturing timeless memories.
With a full line of recliners, power recliners, reclining chair and ottoman combo's, rocker recliners, as well as power reclining loveseats, sectionals, sofas, and more, the storied BarcaLounger brand delivers form, function, and fashion through a diverse array of innovative designs. By meeting the demand for different style needs, value-adding components, and price points, BarcaLounger speaks to different generations with the same level of quality and comfort no matter which piece is brought home.
For BarcaLounger President and CEO Larry Smith, engaging features such as built-in phone chargers, USB ports, voice-automation, and heating and cooling systems, separate today's recliners from the models of yesteryear. "I like products that will interact with me and give back to me! BarcaLounger recliners can match the aesthetic and fashion of the home while adding value. We want to provide high-quality furniture that someone can count on, that does more for you than just offer a seating solution," said Larry when Furniture of Dalton recently interviewed him.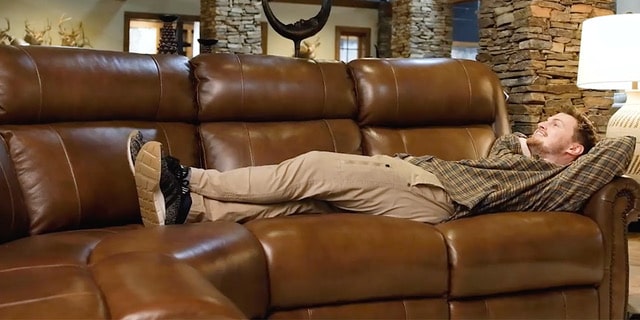 As families have spent more time safely at home over the past few years, getting the most out of space and furnishings allows for premium enjoyment together. Some families may not have a budget to complete an entire design refresh for a common room, but adding an upscale, fashion-forward recliner with engaging features can instantly elevate the look and experience at home. BarcaLounger's legacy of firsts from reclining mechanisms to reclining models speaks to the innovative functionality that continues to this day and allows every member of the family to enjoy relaxing and of course, enjoying life's moments.
Whether your preferred design aesthetic is traditional, vintage, contemporary, or modern, BarcaLounger has a silhouette, texture, and tone that will fit your design vision seamlessly. The on-trend neutral color palettes are easy to design with and match virtually any room layout. Top-quality leathers and other materials such as wood and nailhead trim add a touch of luxury to the wide-ranging offerings.
According to Larry Smith, the Furniture of Dalton partnership presents a unique opportunity for BarcaLounger to connect with even more families. Larry said, "Furniture of Dalton believes in branding the real estate of their impressive showroom and gives us the freedom to tell our story. We are allowed to visually brand our footprint and communicate the merchandising. And what a privilege it is to know that someone trusts the BarcaLounger brand to bring our product home and be a part of these special family memories."
From primetime TV cameos on Friends and Jeopardy to long-term credibility across decades, BarcaLounger represents the most diverse manufacturer of reclining furniture with product divisions that speak to all ages and demographics.
Make sure to visit the Furniture of Dalton showroom to explore the BarcaLounger product showcase and if needed, schedule an in-person or virtual design consultation so that our experts can help you complete your décor theme with the perfect BarcaLounger style that your family will enjoy for years!