Furniture For Your Ultimate Home Tailgating
It's the most wonderful time of the year! While we are looking forward to the delectable turkey, beautifully decorated trees, and holiday festivities, what we really love is that it's football season! If you are a major sports fan (or you just enjoy an excuse to get together), you have probably tailgated at the game before. The experience is thrilling with the fans decked out in their team's colors, delicious food, drinks, and overall comradery shared between friends and family cheering for the same (and sometimes opposing) teams. However, there are several drawbacks to the tailgating experience like the drive to the stadium, finding a space to set up your tailgating tent, poor weather conditions, long lines, and uncomfortable seats. If you're like us and you still want to enjoy the fun of tailgating without the hassle, try tailgating at home! We have rounded up the ultimate home tailgating essentials from big screen tvs to comfortable recliners, entertainment centers, and more to turn your home into a tailgating destination!
Big Screen TV
An absolute necessity for an at home tailgate? A great TV! While it might seem obvious, a must have for watching the game at home is big screen TV. In today's tech-savvy world, it is fairly easy to get an exceptional TV at a great price. We recommend a TV that is 65" or larger as well as an option that boasts UHD 4K resolution for a great game-watching experience.
Entertainment Center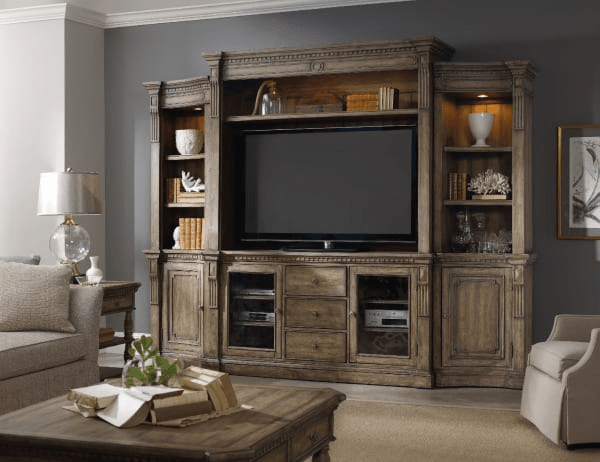 Equally as important for your home tailgating experience is a space to watch the game and cheer your team on to victory! An entertainment center can transform your living room or game room as it is the perfect place to house your flatscreen TV, sound bar, and other accessories. It also makes for great storage and you can display team memorabilia and decor. Of course, if you don't have room for an entertainment center, having a TV stand works great as well!
Recliner
One of the best parts of having a tailgate experience at home is the comfortable seating! What better place to kick back, relax, and watch the game than a cozy recliner? You can also get a motion sofa or sectional so that everyone can enjoy the benefits of a reclining seat to watch the game.
Bar Stools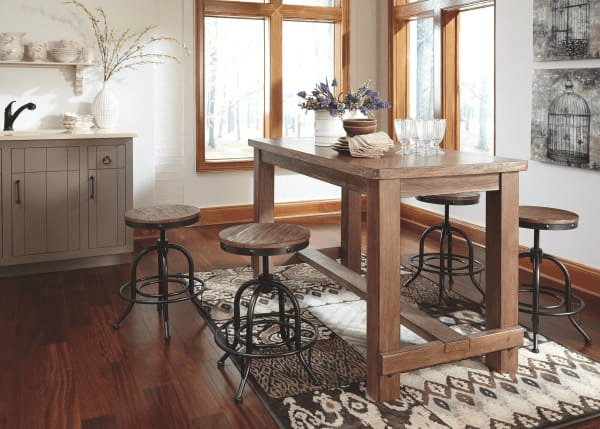 Of course, you will always have a few fans who can't sit with the excitement of the game. Bar stools at a kitchen island or bar table are great for a home tailgate because they take up less space and give people the ability to stand, cheer, or sit between plays.
Food and Drinks
We also highly recommend creating a tailgate spread that will make your counterparts who went to the game jealous. These Football Pastry Sliders look like a delicious finger food that is easy to grab and even easier to eat. Don't forget something sweet like this Cookie Dough Dip that looks heavenly! Be sure to stock your bar and fridge with plenty of game day beverages. You can even have custom cups with your team's logo printed on them for a festive touch!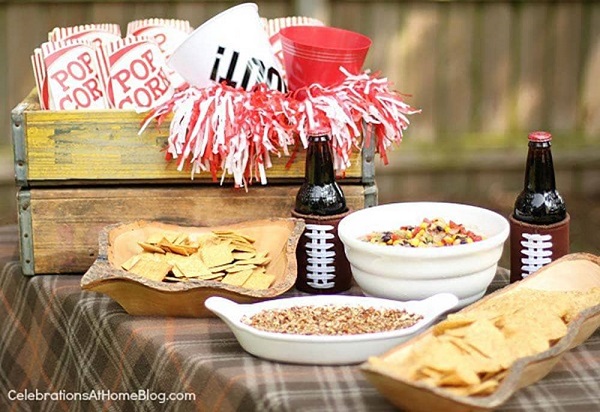 Team Spirit
Be sure to have lots of team spirit at your home tailgate party so that you truly feel like you are at the team's stadium with other excited fans! Get stick-on face tattoos, team colored cups and plates, and a few festive decorations with your team's logo. Be sure to dress in your team's colors and include a few balloons!
We hope our home tailgating essentials list has you ready to enjoy the next round of football games whether you plan on hosting a crowd or just family. Gathering with those you love and sharing a common bond over rooting for your team is always a good idea. If you are in need of an entertainment center, recliner, motion sofa or sectional, couch, loveseat, bar stools, or any other game day necessities, Furniture of Dalton has you covered! Browse online and schedule an appointment to visit us in store so our design consultants can help you select the perfect furniture for your home. We have one of the largest selections of in-stock furniture in the area so you can take home today and get to enjoying your furniture right away!
Happy tailgating!